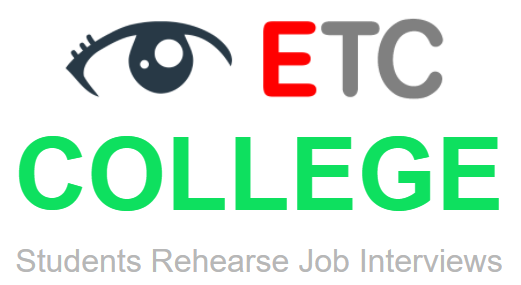 Less than 1/3 of College Graduates feel fully prepared and confident about their Job Interviews!
Have you ever seen your EMOTIONS while answering your Job Interview Questions?
ETC COLLEGE generates the ETC EMOTIONAL Fingerprint

™

 of Students and Graduates to improve their Job Interview Performance and skills and be prepared to land their dream Job!
When dealing with job interviews and anxiety, ETC COLLEGE helps build confidence and is designed to be fun, simple, and rewarding!
Everybody Wins – Students – Universities – Companies
Sponsored Talent Pools
Students receive 2 free tests, the first to diagnose, and review the EMOTIONAL Fingerprint™ and the second to improve job interview performance and be part of the ETC COLLEGE – Sponsored Talent Pool and obtain the Student Employability Certificate that is a document that certifies a student's readiness for employment in their chosen field. 
Universities & Colleges use data to diagnose critical education issues scientifically.
Companies donate interviews. In exchange, you receive full access to our pool of talented graduates and well-prepared students for any hiring needs you may have.

Students can even demonstrate their proficiency in a foreign language.
No LIMITS to your big DREAMS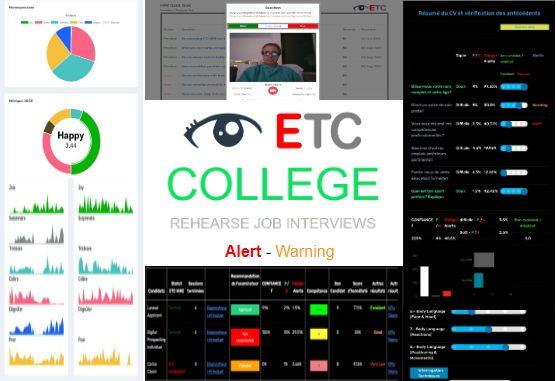 Who should perform the ETC COLLEGE Interview?
– Senior and Junior Undergraduate Students that want to Rehearse their future Job Interviews.
– Masters Degree Students & Graduates.
– Applicants to Universities with customized questions.
 * Any person looking for a new Job can also take advantage.
Critical Success factor & Advantage over other Candidates – You can Practice, Practice & Practice to impress!
ETC College Interview Goals
Graduates, Students, and Applicants will review and understand their EMOTIONAL Fingerprint

™

.
Specific Questions will show ALERTS & Warnings to fine-tune responses.
Measure and Improve Soft and mental skills.
Understand Emotional metrics in the response between Soft vs Hard Questions.
How can ETC College be used?
1. Interviews and Evaluations coordinated by the university (Examiners & Observers Roles)
2. Interviews perform individually or by student groups or organizations (Online Guidelines & Help Support)
3. Job Coaches can use it to help candidates improve and enhance their skills to be successful in their hiring.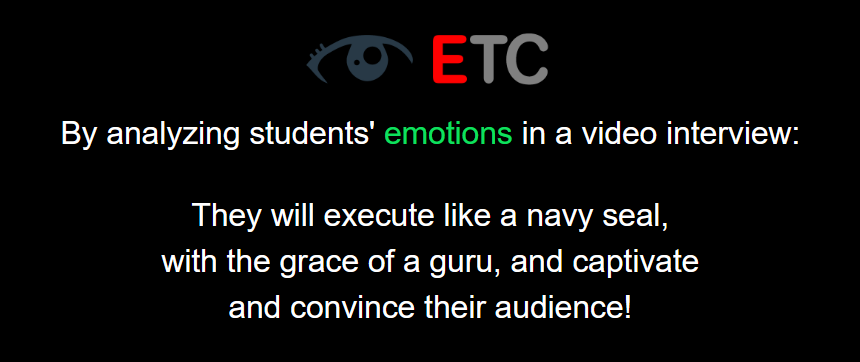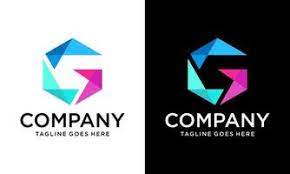 Your Company Sponsorship – ETC COLLEGE
We invite your company to help students worldwide to achieve their dreams by preparing for their job interviews in the best way and benefit from Top Talent Pools.
How to reach your Big Dreams? – Excellence in everything we do!
By following the following process and recording an ETC College interview, your EMOTIONAL Fingerprint™ will tell you where you are!
Incompetence: You are not good at your job and don't want to be! (10% of people)
Competence: You can perform the job, but others can do it. (55%)
Excellence: You can complete your job exceptionally well, but it may not be as rewarding as you would like sometimes! (30%)
Genius Work: You really enjoy it and want to grow your knowledge and experience permanently; it is not your work. It's your passion! (5% will reach this point)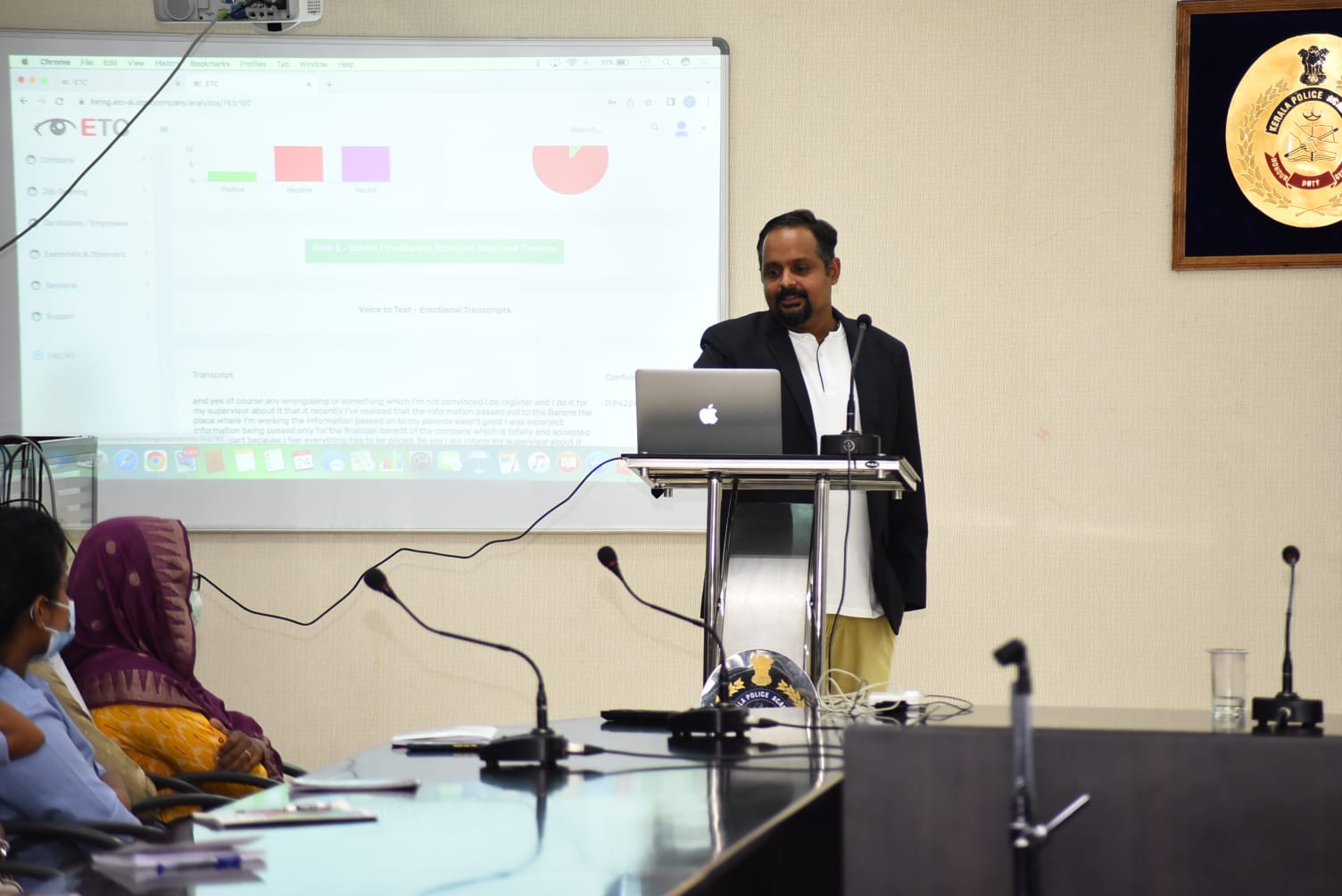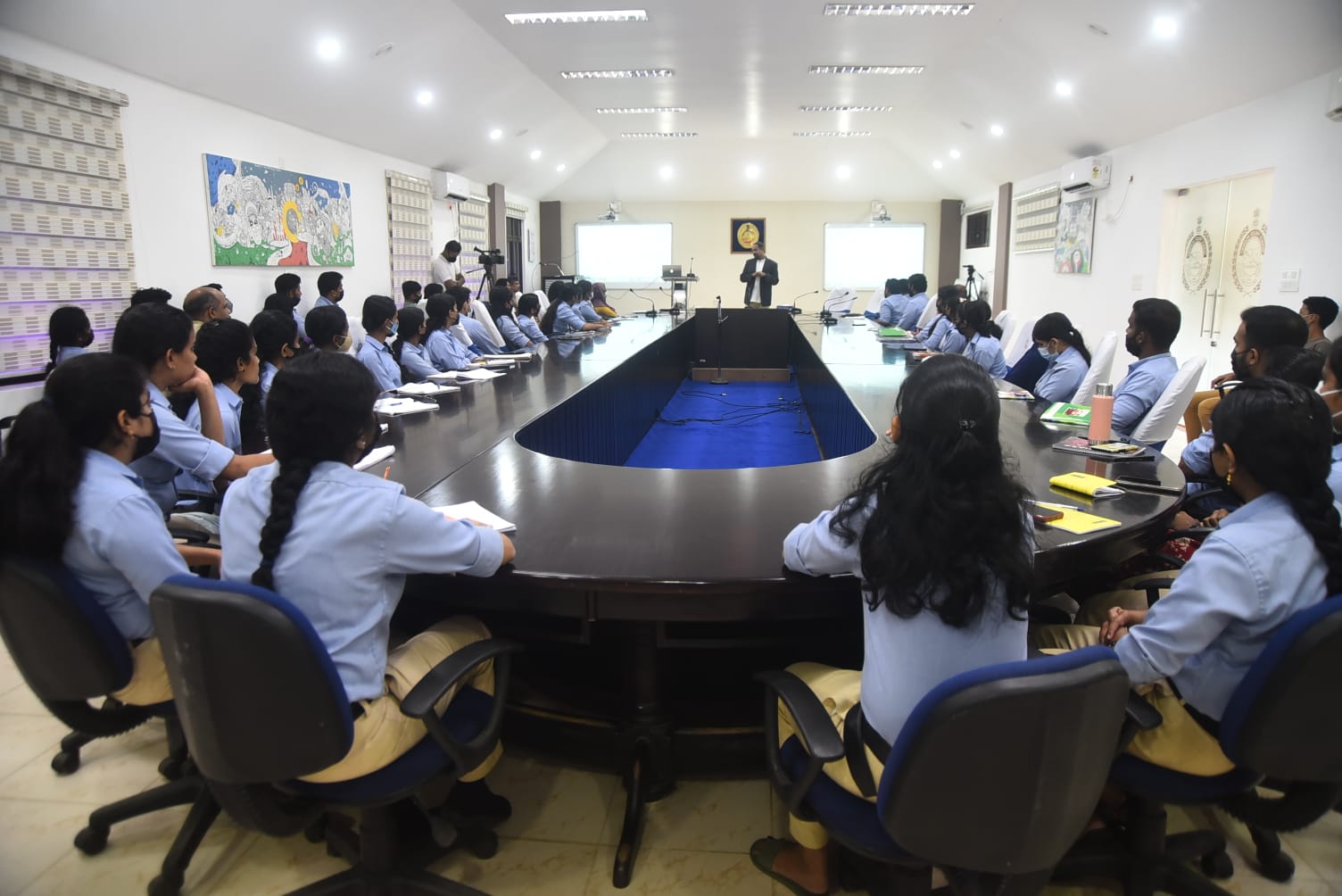 Education Critical Issues
Human Resources
Gender Equality & Sexual Harassment 
Students & Faculty Discrimination
Diversity   
Bullying & Harassment 
Student Housing 
Students Performance Evaluation
Mentoring
Information & Communication
Absenteeism & Performance
Security & Compliance
Academic Cheating   
Suspect Fraud/Theft
Personal Safety & Security
Data Security & Protection
Waste of Resources
Criminal Activities
Confidentiality Issues
Misbehavior & Aggressive Attitudes
Security & Compliance  
Innovation
Free Thinking & Ideas Generation
Leadership Vision
Evolving Landscape – Competition & Threats
Assess Capabilities – Global R&D
Culture Evaluation & Multinational Mix Comfort Zone & Growth
Academic Excellence
Skills
Soft & Technical Skills
Evaluation & Evidence Faculty
Competencies and Evaluation
International Students Human
Online Courses & Programs
Financial Difficulties
Students' Underperformance & Engagement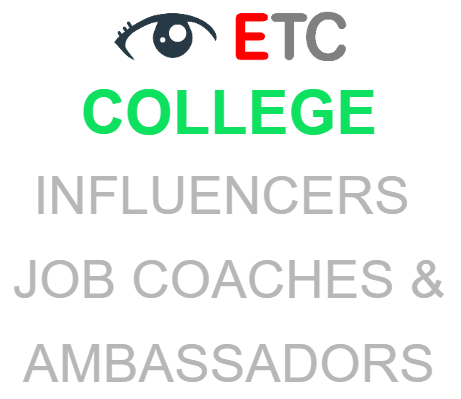 An ETC COLLEGE Influencer is a person or group that can guide the behavior or opinions of students or University officials to introduce ETC COLLEGE Benefits. In addition, it manages a Promo Code to provide free tests as Proof of Concept and can guide the setup process.
The ETC COLLEGE Country Ambassador is a person who represents and supports our solution. In addition, ETC COLLEGE Ambassadors are experts in evaluating candidates as Examiners or Observers and can develop the ETC Performance Consulting services.
ETC COLLEGE – Job coaches identify job and career advancement opportunities for clients based on their needs, objectives, and skill sets. They assist clients in identifying and enhancing their job skills, suggest improvements to clients' resumes, and ensure that clients are adequately prepared for job interviews.
Write to contact@etc-ai.com to review the programs terms and conditions or Schedule a meeting!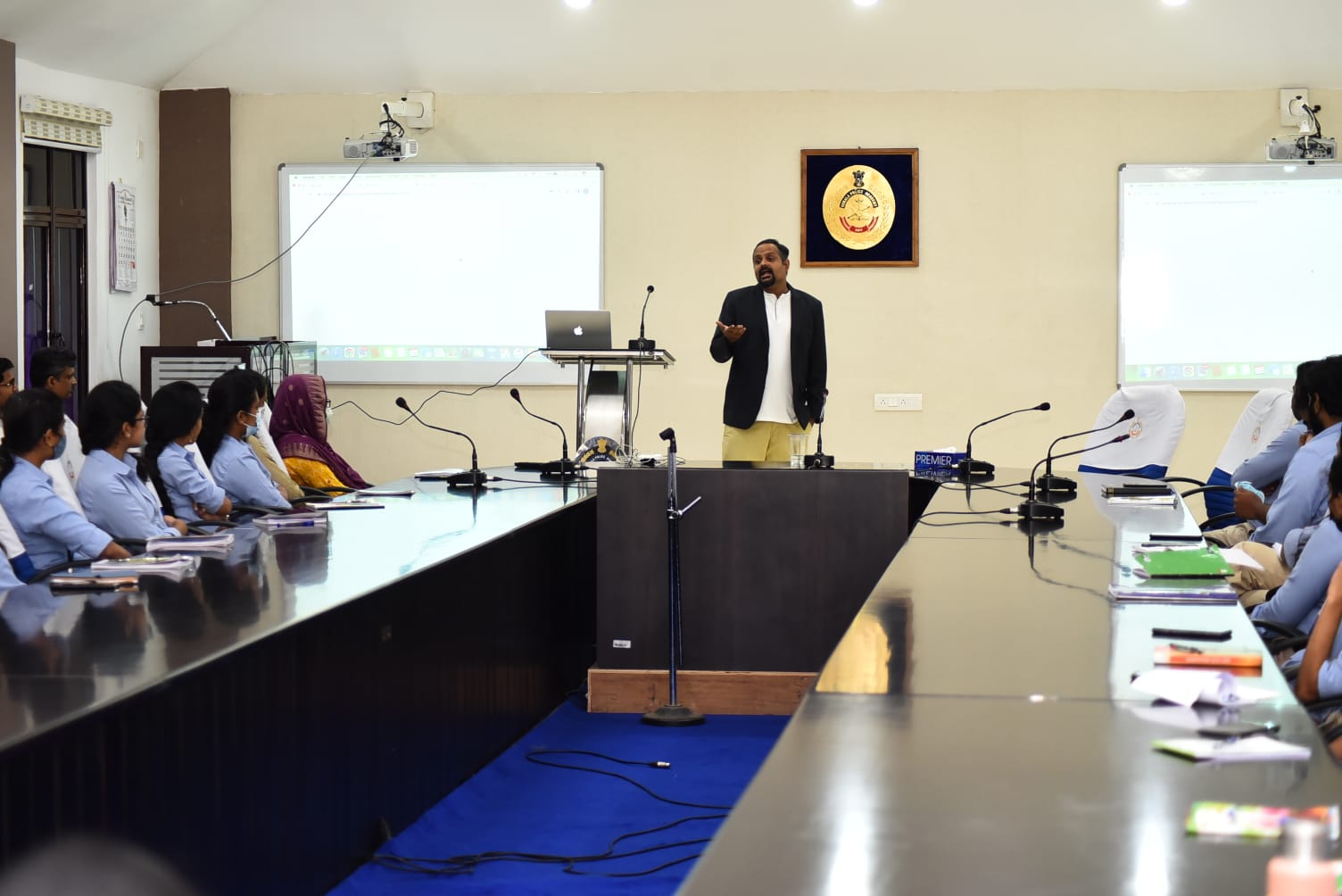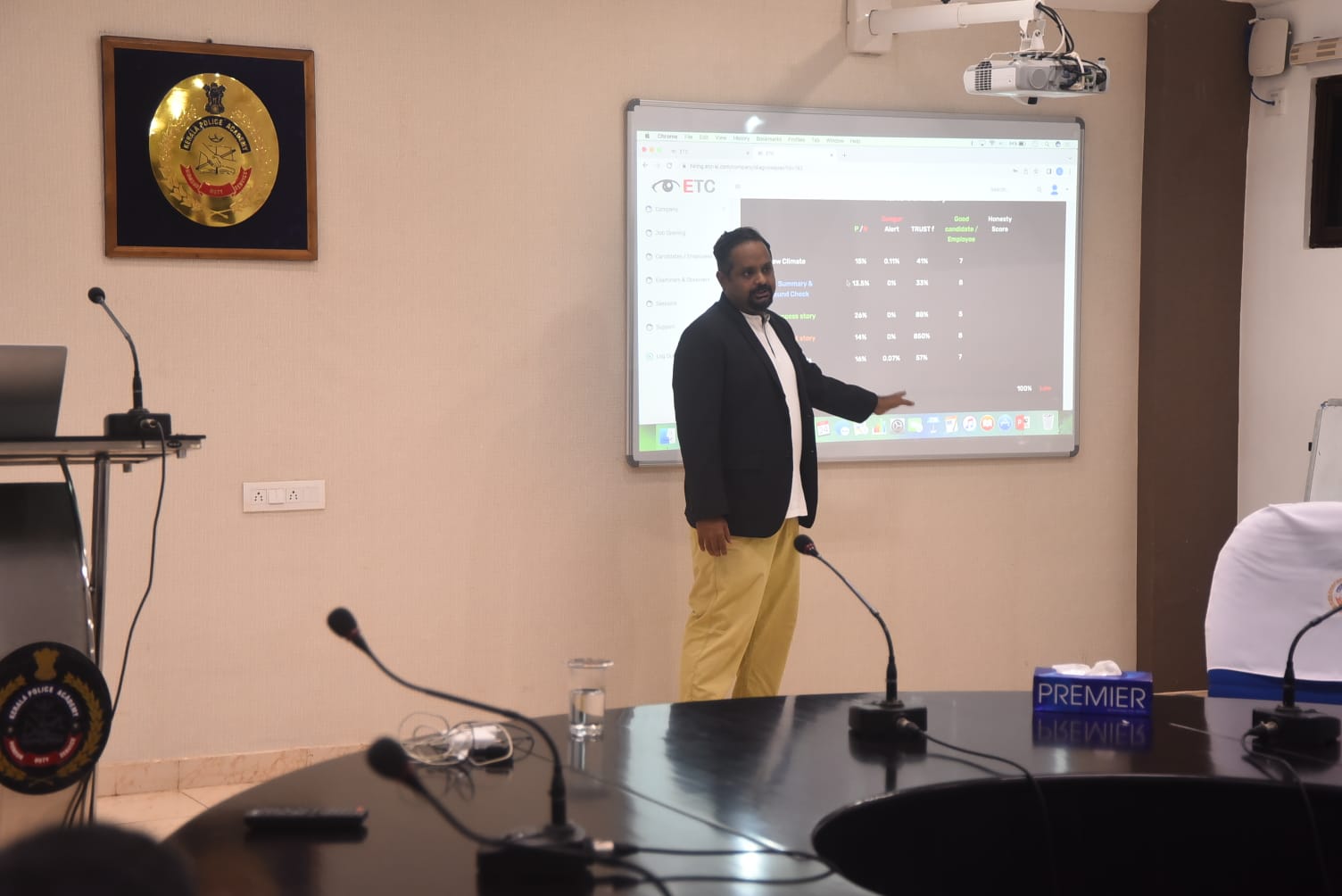 How Ambassadors coordinate Students Interviews and Evaluations.
a. Students sign an Interview consent form.
b. The university defines Critical Issues to evaluate.
c. Specific Questions are incorporated into the Job Opening Types.
d. Students receive an email, prepare responses and perform Interviews.
e. Examiner Score Students and prepare evaluation Report.
f. Soft Skills (Critical Issues) are evaluated at the Job Opening.
g. Conclusion is reached and results shared.