ETC OPERATIONS is a solution with a solid and unique promise: to be the first Permanent TRUST Control system and real-time monitoring of the Organizational Climate, in addition to assessing the risk of employees, candidates, processes, supervisors, and locations to correlate them, activating Alerts to prevent undesirable behavior and accidents.
It is a unique platform; made of APPs and a control panel in a Command Center, which helps discover and understand the emotions of the asset guards.
An Asset Guard is any employee who has in custody a value that can be material, human or financial.
The primary process is a Self-recorded video by the Asset Guard, the answer to the questions, are interpreted through image and voice files.
Select the best talent for your team, prevent and discover undesirable behavior, with instant and non-invasive methods. At low costs compared to traditional tests.
ETC uses state-of-the-art artificial intelligence with high effectiveness.
It analyzes FACIAL microexpressions ……. and VOICE tones, strength, vibration, and ranges, regardless of context or language. Extract emotions every four-hundredths of a second. With the support of "Big Data" technology, it is stored so that it can be segmented, and correlated.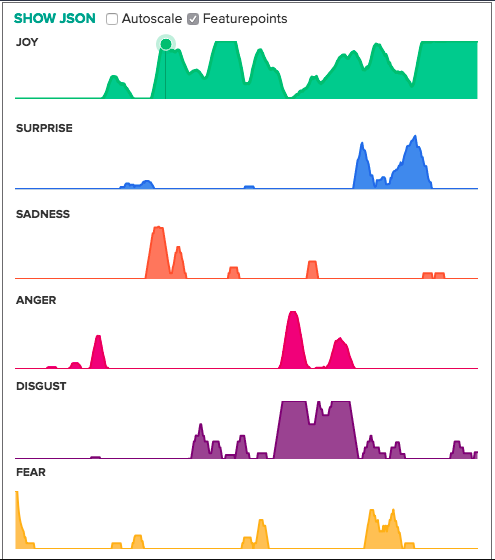 How does ETC OPERATIONS & Law Enforcement work?
There are two types of interview sessions: Control and Incidents.
The questions can be Base or Soft and Specific or Hard.
The emotional states extracted are critical elements of interpretation and prediction.
It is a flexible system regarding the frequency of the interviews, the number of questions per session, and the duration of each one.
Automated algorithms generate performance indicators for ALL questions and sessions.
The supervisors from their APP manually evaluate the incident sessions: in two aspects, "Good Guard" and "Lying Score."

The "Behavior Fingerprint" is a statistical representation of metrics and alerts us of behavioral trends and patterns in real-time.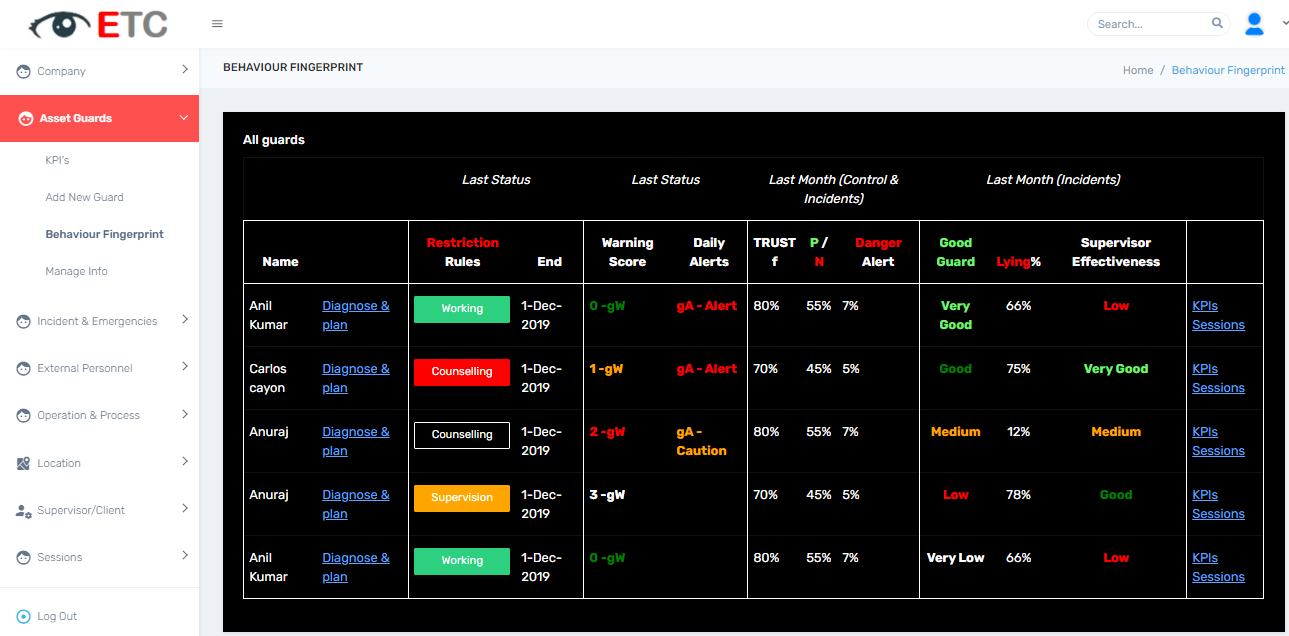 The control questions allow a consistent measure of the organizational climate, rate the values of the employees, and evaluate individual and collective performance in different categories.
Supervisors are trained to assess and rate whether an employee is lying by reviewing specific checkpoints related to facial and eye expressions, verbal responses, and body language through the application of professional questioning techniques.
The Operations module automates and generates video and voice evidence of the Results of Processes, and helps us to report and analyze deviations. It also correlates risk levels between Asset Guards and the tasks that operate.
ETC contains macro processes from leading industries, as well as standard operating procedures, which speed up and simplify their correct implementation.
The Analysis metrics and graphs in the Control Panel are used as a Central Command, showing real evidence of personal reactions in up to 30 emotional states and the permanent measurement of their trends and patterns.
It allows a comprehensive view of asset guards' assignments to critical processes and/or locations, activating alarms when they must be intensively monitored or even removed from their duty.
Clients use the Investigation module to gather and control evidence of an incident, structure the timeline of events, and perform detailed analytics of Asset Guards' behavior to reach supported decisions.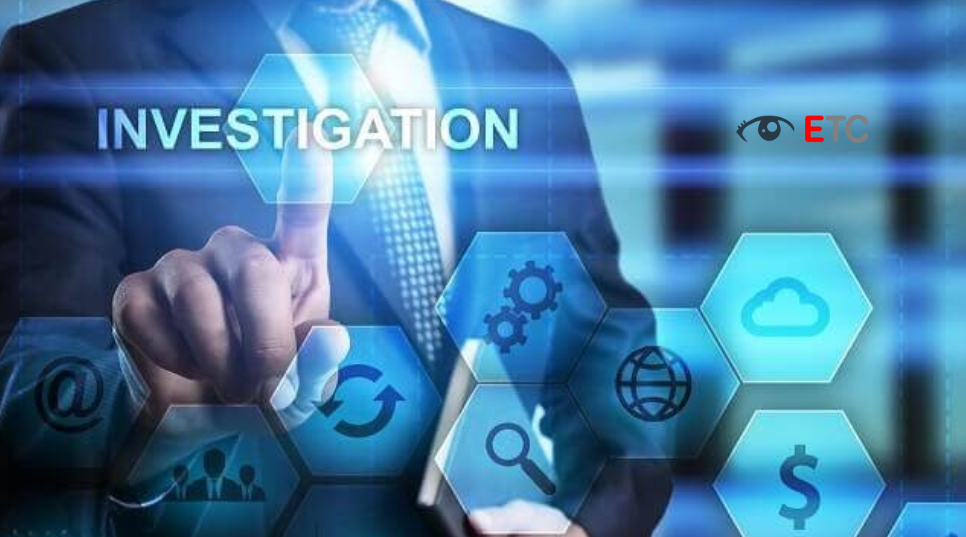 Predictive Artificial Intelligence allows your company to achieve your security goals by detecting and preventing potential undesirable behaviors, correlating performance metrics with threat assessments in Locations, Processes, and Asset Guards.
An excellent way to improve the performance of your company is to implement ETC to identify and evaluate risks, lower costs, and enhance organizational climate, generating knowledge to react to potential scenarios!
ETC is the key to the continuous improvement of your company!