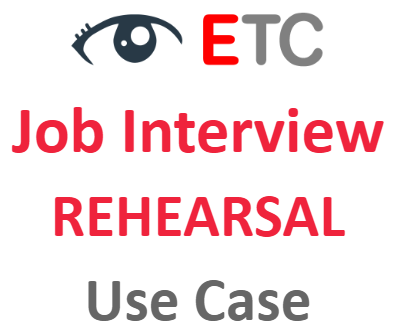 Subject area: Your 
EMOTIONAL Fingerprint™ to improve your presentation skills and fine-tune answers.
By asking the right questions, and extracting & accumulating scientific results over time, you can diagnose and measure your evolution.
Solution = Corporate –

ETC HiRE
How does "ETC HIRE" work?
So you can Rehearse a Job Interview!
Integrate Artificial Intelligence into your Hiring Interviews rehearsal process from web-based video sessions, it will help you discover and understand the emotional metrics behind the your EMOTIONAL fingerprint
™

.
Emotional states extraction from facial microexpressions, voice phonetcis, and transcripts while answering questions is the core element of the State of the Art Technology with proven results.
A Job Coach can act as the Job Interview examiner for optimal results.
ETC HIRE – 7 easy steps to rehearse a job interview
II. Ask for Free Tests as POC or use the ETC Partner Promo Code
III. Register the Examiner and Observers (up to 5) to evaluate a Job Opening (Job Coach)
IV. Create a new Job Opening (Open & Close Status)
VI. Examiner Reviews Alerts & Score Sessions (Good Candidate & Honesty Score) in Diagnose & Evaluate and recommends Hiring Status
VII. In the EMOTIONAL Fingerprint
™, the

Examiner validate results to support Hiring Status and close the Job Opening